Off-Street Parking for People with Disabilities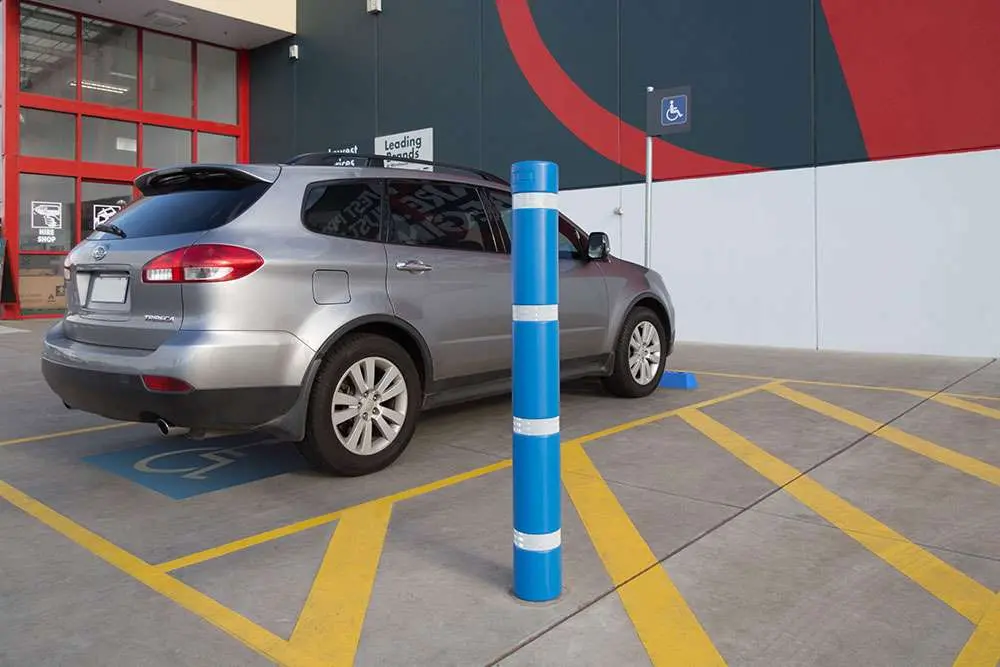 IF YOU ARE in the process of planning or upgrading an existing commercial or public carpark, you are required to consider the needs of people with disabilities as set out in AS2890.6:2009.
In Australia, there is a requirement under the standard, for all shared areas adjacent to a dedicated parking space provided for the access and egress of people with a disability to be protected by a fixed bollard.

We recommend a fixed bollard to prevent the use of the shared area by other vehicles for parking, or during unloading. A fixed bollard also, importantly, provides physical protection for people with disabilities from other vehicles reversing or manoeuvring in a car park.​
Visibility and Safety Around Shared Vehicle Parking Improves with Disability Blue Skinz Bollard Sleeves
While the standard doesn't exactly specify the type or size, it is common practice to install 140mm diameter by 1200mm high steel bollards. Typically, these have a galvanised finish which can become visually lost in a busy or congested car park.

At Barrier Group, for new installations we supply our140mm surface mounted or in-ground 'Gal-Plus' bollards. For existing installs, we recommend our 'Skinz' sleeves that can be retro-fitted up to 140mm diameter bollards.
Both stand 1400mm tall for increased awareness by reversing drivers, are disability blue in colour and supplied with four white reflective bands for improved night visibility.
CAUTION: Flexible or non-fixed bollards should be avoided as they provide minimal physical protection to users of shared vehicle parking zones.
​
Skinz One-Piece Sleeves in Disability Blue

​
Part No. SKZ145-DB
Simple, slip-on retrofit to existing 140mm dia. bollards

1400mm tall, 3mm thick polyethylene sleeves

Four reflective white bands supplied

Skinz are also available in yellow in a range of sizes

Highly durable maintenance-free polyethylene



---
Gal-Plus Disability Blue Bollards

Part No's. C140SM-SKZDB / C140BG-SKZDB
Surface mount or below ground 140mm diameter

Heavy duty 5mm thick wall and hot dip galvanised

Fitted with 3mm thick polyethylene Skinz sleeves

1200mm tall with four reflective white bands supplied

Gal-Plus also available in yellow and a range of sizes



---
Compliance Wheel Stops in Disability Blue

​
Part No. CWS1700B
Designed to comply with AS/NZ2890.1:2004

Made in Australia from 100% recyclable LLDPE

Available in blue, yellow, grey and black

Four recessed fixing points for maximum hold-down

Fixing kits available for a range of surface types



---
Related Posts