Post-Q Fixed Fence System
Modular post-mounted pedestrian separation fence
Post-Q is a modular pedestrian separation fence system that can absorb minor impacts, is non-conductive, corrosion and abrasion resistant and can be used indoors and outdoors.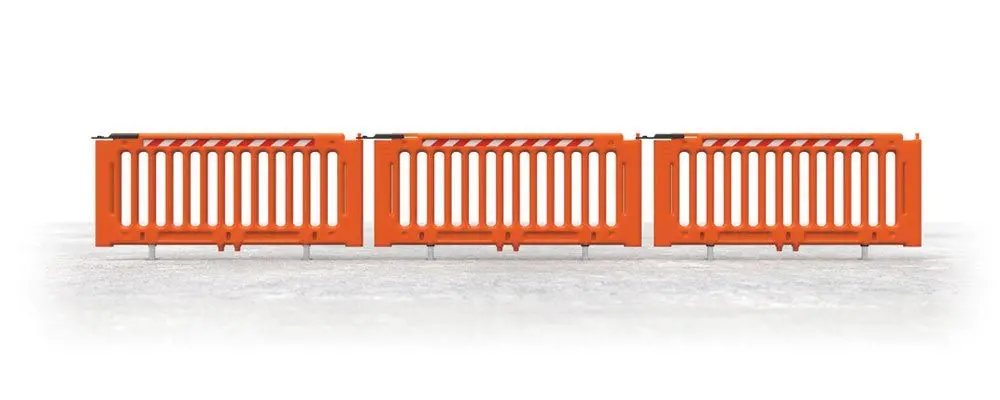 Using the galvanised steel posts provided, Post-Q is simple to install with a high level of design flexibility. Strong galvanised posts and moulded polyethylene panels with solid colour, ensure an extremely durable fence system.
Post-Q is highly visible, won't fade, rot, rust or crack and is almost completely maintenance free.
Post-Q Fixed Fence System

| | |
| --- | --- |
| Description: | Modular post-mounted pedestrian separation fence |
| Material: | Blow moulded polyethylene panel. Surface mount posts 875mm long galvanised steel. |
| Finish: | Solid colour Hi-Vis Orange panel. Hot dip galvanised surface mount post. |
| Height: | 1000mm (floor to top of panel). |
| Length: | 2130mm. |
| Weight: | 14kgs panel including posts (approx.) |
| Fixings: | Supplied with masonry anchors 4 off 16 x 65mm. |
| Galvanised Posts: | The internal posts used in Post-Q are manufactured from 48.3mm diameter hot dip galvanised steel with a welded base plate for surface mounting. Post mounting leaves the Q-Fence panels elevated above the floor for ease of cleaning. |

Sorry, we currently don't have any Case Studies related to this product.

We are currently compiling a list of additional services that might apply to this product.