Menni-Q Fixed Fence System
Modular pedestrian separation fence
Menni-Q is a modular pedestrian separation fence system that is impact absorbing, non-conductive, corrosion and abrasion resistant and can be used indoors and outdoors.
The modular nature of Menni-Q provides a high degree of design flexibility. The components are moulded from Linear Low Density Polyethylene (LLDPE) with solid colour.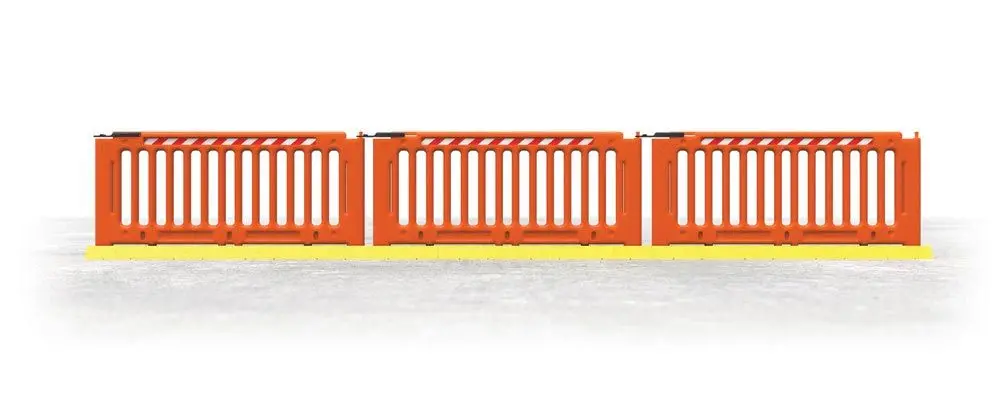 This ensures an extremely durable fence system that is highly visible, won't fade, rot, rust or crack and is almost completely maintenance free.
| | |
| --- | --- |
| Description: | Modular pedestrian separation fence. |
| Material: | Blow moulded polyethylene panels and Menni LLDPE modules. Fibre reinforced plastic internal posts. |
| Finish: | Solid colour Hi-Vis Orange panels. Solid colour Yellow Menni modules. |
| Height: | 1000mm (floor to top of panel). |
| Length: | 2130mm. |
| Weight: | 10kgs/metre panels and Menni (approx.) |
| Fixings: | Supplied. |
| FRP posts: | The internal posts used in Menni-Q are manufactured from 50mm diameter Fibre Reinforced Plastic with a 5mm thick wall. FRP combines incredible strength with flexibility, allowing the Menni-Q fence to absorb considerable impact without damage. |

Sorry, we currently don't have any Case Studies related to this product.

We are currently compiling a list of additional services that might apply to this product.