Rumble Strips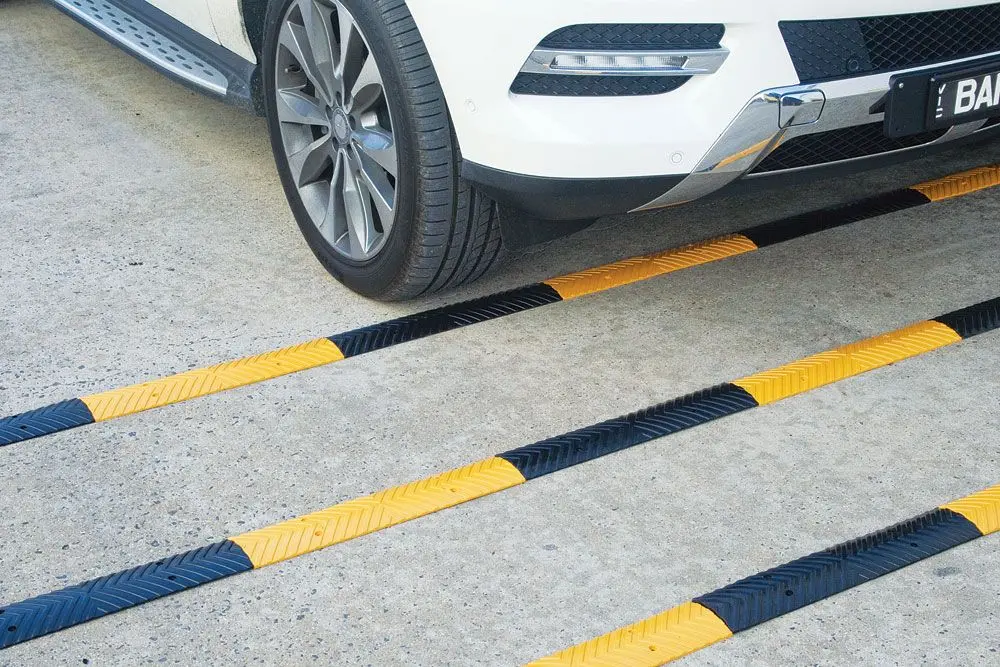 Low profile rumble strips for moderating vehicle speed
A durable and versatile low profile rubber rumble strip for use as a speed moderator or lane divider on roadways. Ideal in residential complexes to slow the flow of vehicles. Alternatively, it can be used as a wall mounted bump protector.
Manufactured from recycled rubber, 500mm long x 100mm wide x 15mm thick. Can be installed with appropriate masonry fixings or glued using a suitable adhesive.
Installation of Rumble Strips
Installation of Rumble Strips
In Bitumen:
First check that there are no services in the immediate area, position rumble strips or marking dots as required and fix in place with 125mm x 6mm galvanised spikes. Note: Marking Dots (P/N MD100S/Y) are supplied with spikes. Rumble strips (P/N RS500-B/Y) are not supplied with spikes, however they can be purchased separately in packs of 100 (P/N KIT26)
In Concrete:
On concrete and other hard surfaces the galvanised spikes will not be suitable. In this situation a rawl plug and screw or sleeve anchor type fixing 6.5 x 40mm is recommended (Not supplied).
Tips:
If nailing into bitumen is proving difficult it can be pilot drilled with an under size masonry drill. When installing Rumble Strips the addition of a silicone or 2 part epoxy adhesive will help prevent the ends of the strips from moving. For setting out use a chalk line to achieve straight lines. Always ensure the surface is clear of dirt and dry if using an adhesive. Avoid installing Rumble strips on bends where vehicle tyres are twisting on them.
| | |
| --- | --- |
| Description: | Rubber rumble strip and lane divider. |
| Material: | Recycled rubber. |
| Finish: | Black or yellow. |
| Length: | 500mm. |
| Width: | 100mm. |
| Height: | 15mm.. |
| Installation: | Can be installed with appropriate masonry fixings or glued using a suitable adhesive (not supplied). |

Sorry, we currently don't have any Case Studies related to this product.

We are currently compiling a list of additional services that might apply to this product.