What we have Learned About Safety From our own Overseas Travel Experiences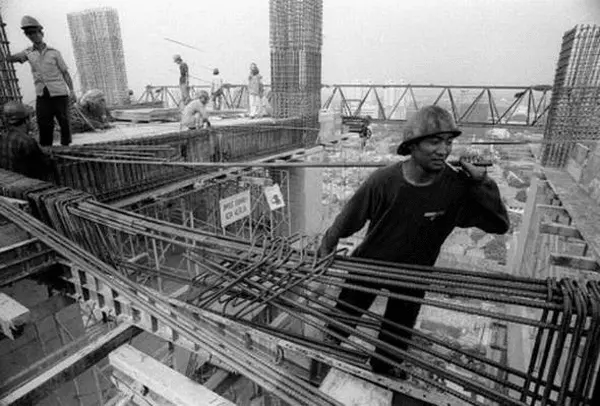 How other countries perceive employee and workplace safety will shock you!
In the last six years I have been lucky enough to break-up the long, cold Victorian winters by chasing the warm sun and new experiences in some relaxing overseas holidays.
I have traveled to Bali, Indonesia (twice) and Koh Samui, Thailand in that time.
We are well aware of the lack of road and personal safety which sadly is a common theme in these countries. We've all seen the shocking photos floating around Facebook of a family of five or more on the back of a scooter darting through traffic, and stared in awe as a gentleman transported a tonne of bricks on his bicycle and so on.
But since being a part of the Barrier Group team, what I noticed more each time I traveled was the lack of workplace safety.
As I became more aware of my surroundings I was intent on surveying the work sites and construction areas that I would often walk past on my way into the restaurant and shopping precinct or drive past on my way to another tourist attraction.
Things I noticed that were commonly absent in these areas:
Seemed like only the lucky ones got to wear protective clothing, hard hats were sparse as I only saw a few wearing them.
Hi-Vis clothing didn't appear to be compulsory.
Work boots were a rare sight, barefoot workmen appeared everywhere (even while using machinery on a highway to build and resurface a new road and bridge!)
Water and wires were constantly in very close proximity.
Height safety systems weren't in place.
Scaffolding was unsteady and often on very uneven surfaces.
Hazardous areas were insufficiently barricaded.
Awareness signs were sometimes there, although some were hand drawn signage and obviously not up to industry standards.
On reflection, it sounds like really nail-biting stuff! But these safety oversights were never close enough to put tourists lives in danger. Unfortunately, the same cannot be said for the workers.
I am holidaying in Bali with my husband again this year, and this time I positively hope to see improvements to workplace safety standards in these areas.
At the time of writing this article, 185 worker fatalities had been recorded in Australia for 2014, so it makes me wonder just how many workplace fatalities occurred in Indonesia or Thailand.
Sadly, I believe the numbers would be much higher.
More overseas travel anecdotes from Barrier Group employees
"Having traveled through these countries (above) and experienced all of these examples firsthand, I can confirm them all to be true. And you haven't even mentioned China, possibly the worst of all.
How can I say this? With eleven visits over the last ten years, I have spent literally hundreds of hours in their factories and businesses.
Statistics show that in 2012 alone over 70,000 people died in China from workplace related accidents. That's right, almost 200 per day!
But these are so called "3rd world" countries, with little if any organised unions, low wages and workers with no power. What about the first world countries like the United States, U.K., France and so on?
I have just recently returned from four weeks in the U.K., my second trip there in as many years. I've also visited France twice and the U.S. on five occasions. My overwhelming impression is that Australia is miles (or should that be kilometres?) ahead when it comes to implementing and enforcing workplace safety. In fact, when it comes to OH&S as an example, I would suggest that the U.S. is where we were maybe 15 or 20 years ago.
In 2011, in the U.S. approximately 13 people per day were killed on the job while another 137 per day died from occupational diseases. A total of almost 55,000 per year………………sobering stuff."
- Rick Hall, Managing Director
---

"Since I grew up there, I can probably tell you lots about how dangerous it is to be a construction worker in South east Asia. Workers get injured all the time but they somehow develop a system not be killed on site. You know, pretty much adapted to the dangerous environment, just like the traffic I guess.
On my most recent trip, I happened to be near a construction site and observed people working. It was a rainy day and at that particular site, foggy as well. You can see people still working in these weather conditions - operating crane, walking around exposed construction concrete wire, lack of temporary protection, no eye or ear protection etc. They are all wearing high visibility hard hat and boots (may or may not be steel capped), but I wasn't impressed that they were not wearing high visibility jacket. However, there is warning signage everywhere and I think that's an improvement.
Oh, one thing you will never see happen in Australia, construction workers are usually foreign workers so they live on site. They usually start to live in a timber shelter or container that's converted into a temporary hostel, then as the construction/building becomes water tight, they will move in while working on painting and interiors. It is very common that your new office building or house are lived in by worker before you. It is common to clearly see their laundry hung on site as well. I would think that's a very bad living condition.
The following images are very typical scaffolding you see at construction sites. A smaller project will just use a timber frame (Photo 1 and 2) and you only find metal frames used on a larger project (Photo 3) - but you can see there's not much protection and people can fall easily.
I am certain people have started to realise the importance of workplace safety on a construction site as I've recently noticed advertisements displayed for safety boots and other PPE. Although it is still very common that no local is willing to work as a construction worker and businesses usually "import" foreign workers to do the job. Of course their welfare is not regarded as a high priority. It is sad that foreign construction workers are not paid much respect or attention - far away from home and usually isolated from the local community, life is difficult for them even though they are the ones who build the region.
Honestly I don't think the safety environment for construction workers has changed much at all. What we think is dangerous and lacks protection, it might just be another task they need to pay extra attention to complete it, as they know the site very well. People have been doing it this way traditionally for years and that's how they pass on the knowledge to the next generation.
Like I said, people just adapt to the environment and manage to make a living that way. That's the developing country/South east Asia problem."
- Huiming Wong, Product Development
Do you have any travel stories that can relate to our experinces that you can share? Tell us about them in the comments.