Three Major Reasons our Museum and Gallery Barriers are Absolutely the Best!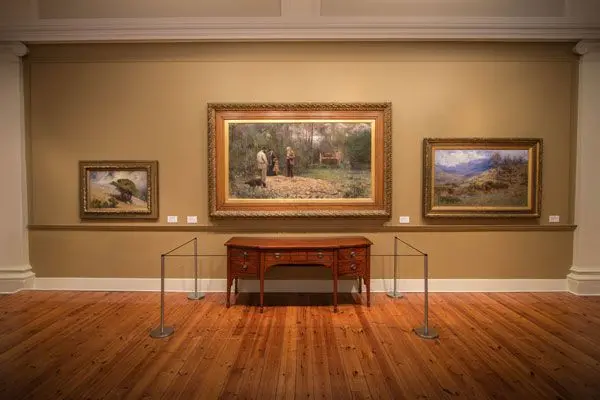 Exhibitions are the "main events" for galleries and museums to display works of art from local and international artists.
Artworks are exposed to students (on school excursions), corporate visitors and the general public on a daily basis.
Providing the exhibition spaces to these artists requires that you can minimise the risk of potential physical damage and ensure their exhibits will be protected from public interference.
Second to that, it is vital that the barriers used to surround exhibition spaces not only restricts access but are also discrete enough that they don't detract from the display.
Watch video: Gallery Barriers being used at NGV's latest exhibition
We know implementing a new barrier system isn't a task to take lightly. It requires a good deal of thought, time, and money, but the upside can be enormous.
So while you might find many good reasons not to upgrade your barrier systems (just yet), here are three excellent reasons your exhibition spaces need the protection of our Neata Gallery barriers.
3 Reasons Neata Gallery Barriers Should Be Used In Your Galleries & Museums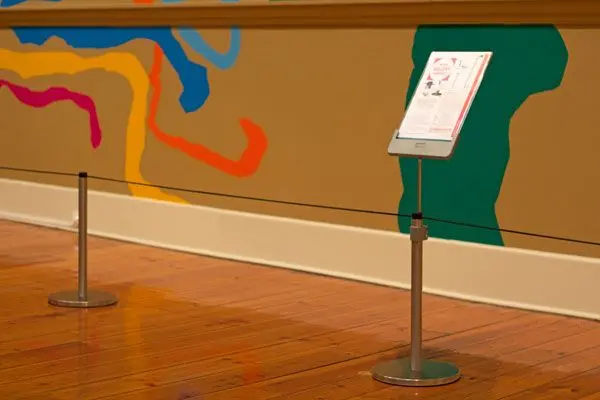 1. Your current system is outdated or damaged.
With its unobtrusive design, straight lines and increased floor
space our Gallery Barriers can transform any exhibition space
in your museum or gallery.
With a modern, high-end stainless steel finish and small footprint design these are the perfect barrier to surround your exhibits without distracting the visitor from the masterpiece.
If your current barriers have reached their end of life, no longer match or your supplier no longer offers replacement parts we strongly suggest you consider installing the Neata Gallery.
Does your barriers clunky design distract from the display?

Are your barriers an ugly or unattractive colour?

Are you unable to replace damaged barriers with the same (outdated) model?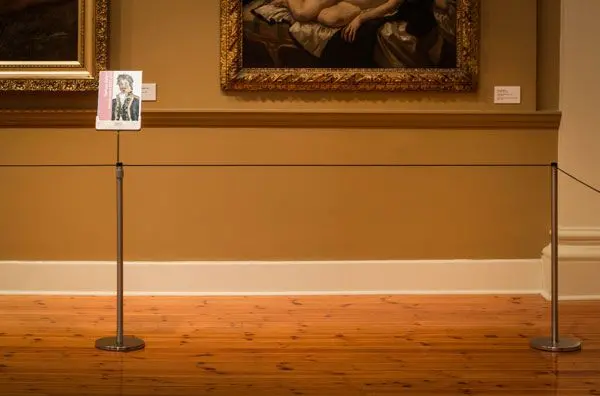 2. You want to incorporate an improved and more reliable system.
With consideration to security concerns, flooring restrictions and display areas, our barrier systems comprises three configurations suitable for any permanent, frequent or temporary exhibitions and two post heights ideal for zoning-off floor, elevated or wall displays.
When compared to existing rope barrier systems that are prone to 'drooping', the major feature of our Gallery Barriers include space-defining elasticated cords that not only provide a straight line but also flexes gently to eliminate tripping hazards.
Is your gallery or museum regularly subject to students, children and cleaning staff creating havoc with your perfectly
aligned barriers?
The elasticated cords have a unique tamper-proof locking system to ensure your barriers are constantly at a fixed width and always perfectly aligned.
Additional benefits of our system include:
Improved wheelchair and stroller access around the posts or over the low-profile bases

Less clutter with an increased available floor space

Eliminated time spent removing and/or repositioning barriers
So if you are constantly straightening or perfecting the distance between your barriers, your space appears cluttered or your barriers are unreliable for your exhibition requirements then the Gallery system is for you.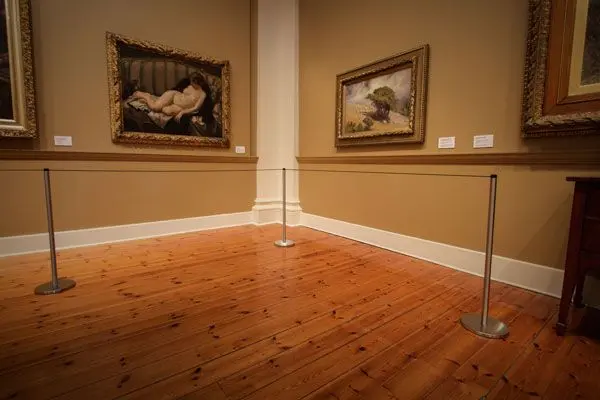 3. The purpose of your barriers changes throughout the gallery.
Do you feel like your barriers limit how you plan your exhibition space?
Unlike previous chunky, portable post and base models, Neata Gallery's flexible design offers an exciting range of installation options that do not take up floor space or distract from the exhibit.
Suitable for semi-permanent to permanent displays and designed to be removed and replaced with a cap for a subtle flush finish when the floor space is required. These posts can be installed into carpeted and concrete floors or directly onto elevated blocks/wedges to surround the exhibit at a closer range.
Ideal for permanent displays and designed for installation into timber floors or floors with restrictions (such as rented spaces).
Designed for quick deployment for temporary displays, short term crowd or queue control.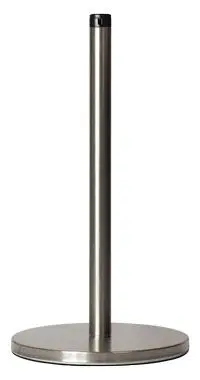 Not only do the choices above offer you a range of uses in galleries and museums, you can also improve your crowd control management plan for queuing in entrances and foyers with Neata's retractable belt and rope barrier systems.
All systems feature spare parts and accessories, including sign and brochure holders, that are readily available to enhance your zoning or queuing needs.
Have you been held back from creating the perfect exhibition space by the nature of your barrier system?
Can your system be used across a range of uses to get the most out of your museum or gallery?
Do you find it difficult to purchase accessories that complement your current barrier model?
You won't find anywhere else in Australia that designs, develops and supplies a range of high-end stanchions to cover any queue, crowd or zone management needs and also offers expert installations and a reliable after sales service. Neata Barriers by Barrier Group are the new Australian leaders in crowd management systems.
Are you looking for Museum and Gallery Barriers?