Portable Trolley Ramp PTR2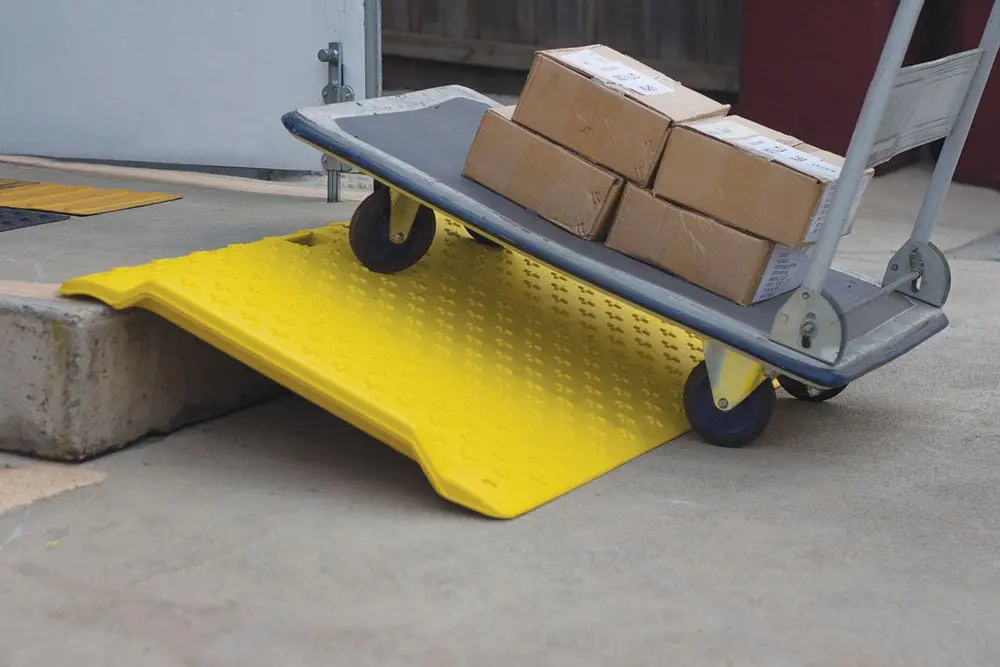 Heavy-Duty Portable Trolley Ramp for Industrial, Commercial and Domestic use
Portable Trolley Ramp is an essential piece of equipment for anyone needing to transport heavy goods or wheeled objects up and down raised surfaces. This ramp is a reliable and safe solution for bridging the height gap between surfaces of up to 200mm.
Constructed from durable yellow polyethylene plastic, this ramp is built to withstand heavy usage and challenging environments. The top of the ramp features an anti-slip pattern design that provides an extra layer of safety and grip for both users and goods being transported. The steel bar reinforced backing provides additional structural support and stability, ensuring that the ramp can handle a maximum load capacity of 300kgs.
The Portable Trolley Ramp is suitable for a wide range of applications and environments, including loading docks, warehouses, and distribution centres. The ramp comes equipped with fixing holes, allowing for permanent installation if needed. However, the ramp's portability is what sets it apart, thanks to the convenient carry handle, making it easy to transport between locations.
The heavy-duty ramp's versatility extends to its use for wheelchair access. Its 200mm between levels and anti-slip design make it a safe and reliable option for people with mobility impairments. The ramp is easy to set up and remove, making it an ideal solution for temporary or occasional access requirements.
In summary, the Portable Trolley Ramp is a reliable, durable, and versatile solution for bridging height gaps of up to 200mm. Its robust construction, anti-slip design, and steel bar reinforcement make it suitable for heavy usage in challenging environments. It is also a convenient and accessible option for people with mobility impairments, making it an ideal choice for industrial, commercial, and domestic use.
Portable Trolley Ramp PTR2

| | |
| --- | --- |
| Description: | Portable trolley ramp. |
| Material: | Injection moulded durable plastic with steel reinforcing backing. |
| Finish: | Yellow anti slip surface. |
| Size: | 1300mm x 700mm x 85mm. |
| Weight: | 13kgs. |

Sorry, we currently don't have any Case Studies related to this product.

We are currently compiling a list of additional services that might apply to this product.