NoWeld Modular Handrail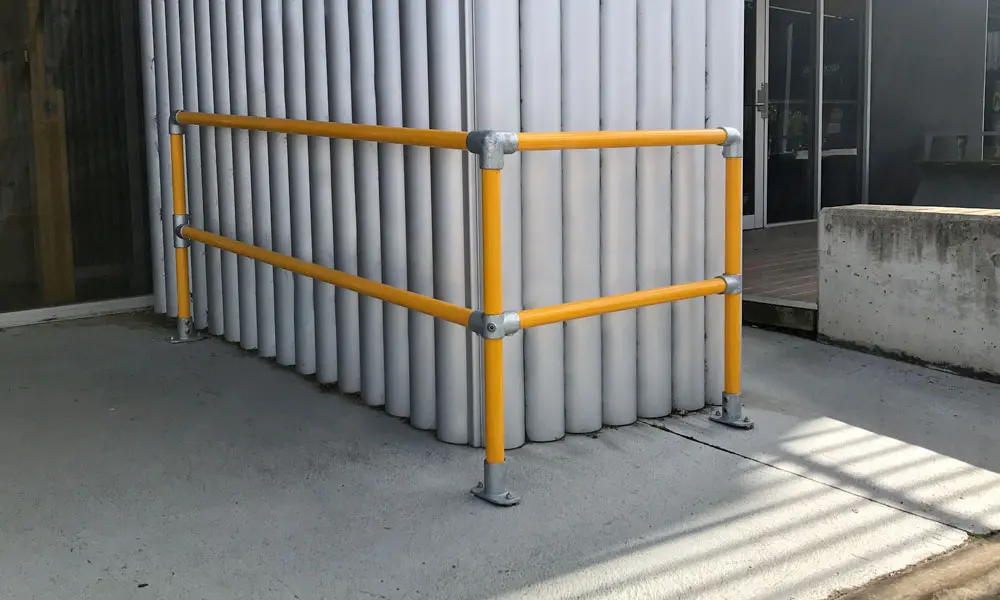 NoWeld modular handrail system guides, separates and protects.
NoWeld is a strong, versatile, and an easy to install modular handrail system. With a wide variety of attachable components, NoWeld offers multi-directional runs, straight runs, 90° corners, end posts, and gate posts. NoWeld also has a variety of angled fixture components designed for use on ramps and staircases.
In line with the recommended industry standard of installing at 2060mm post centre spacings, NoWeld 48mm OD (40mm NB) handrail pipe is sold in 2000mm lengths. When smaller sections of railing are required, simply cut down to size.
No welding means no 'hot permits', or excessive equipment is required at time of installation. No threading or bolting means no special tools or skills are required to install.
With sturdy surface mounted base plates, the NoWeld modular handrail system is solid, reliable and complies with Australian Standards for access and mobility Handrail (AS 1428.1:2009) and for use as a Balustrade on fixed platforms, walkways, and stairways (AS 1657:2018)
| | |
| --- | --- |
| Description: | Modular Handrail System |
| Material: | Post and Rail 48mm OD (40NB) |
| Finish (Railing): | Galvanised or Galvanised & Powder Coated Yellow |
| Finish (Components): | Hot Dipped Galvanised Cast Iron |
| Height: | Adjustable (refer to current Australian Standard guidelines) |
| Spacing: | Maximum post spacing 2 metres post centre to post centre |

Sorry, we currently don't have any Case Studies related to this product.

We are currently compiling a list of additional services that might apply to this product.