Removable Bollards In-ground Sleeve-Lok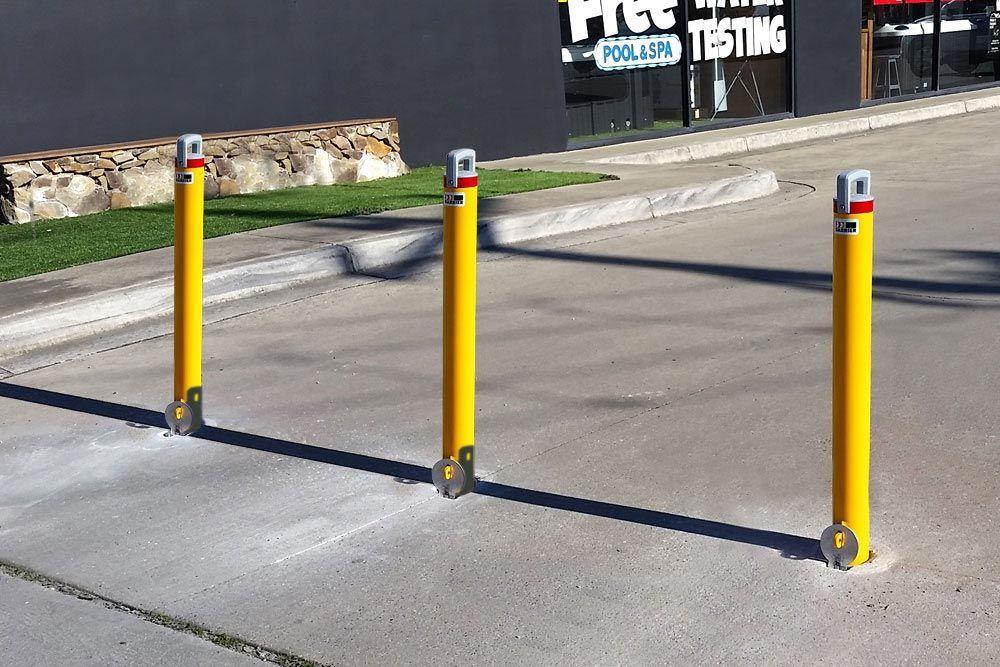 Bollard designed for warehouse roller door protection
The Sleeve-Lok range of removable bollards with their heavy steel construction are well suited to help combat "Ram-raids" on businesses. They have served this security role now for over 12 years with thousands having been installed in all manner of applications. We find that our Sleeve-Loks are also very widely used for managing vehicle access in restricted areas. These include industrial sites, parks and gardens and numerous other public space environments.
Sleeve-Lok removable bollards are differentiated from the Cam-Lok range by their locking method. Where the Cam-Loks use high security locks with an internal locking mechanism, the Sleeve-Loks use a simple padlock design whereby the cap on the in-ground sleeve is secured to a high strength steel shackle welded onto the bollard. Sleeve-Lok removable bollards come in two styles. Freestanding for shop front or public open space installations, and roller door models for the protection of factory roller shutter doors.
In keeping with a greater demand for an aesthetically pleasing design in street furniture and fixtures used in public open spaces, we have undertaken a major re-design of our removable bollard range. This is evident in the smart new cast aluminium caps and handles on the Sleeve-Lok bollards.
Another area of improvement and one where our entire bollard range differs from our competitors, is that they are all hot dip galvanised during manufacture. This includes bollards that have a powder coated finish. This is a significant development as hot dip galvanising has a dramatic impact on reducing corrosion and increasing the service life of the bollard.
| | |
| --- | --- |
| Description: | Removable bollard post for the control of vehicle access. |
| Material: | Steel post 63, 90 or 140mm diameter. |
| Finish: | Galvanised or safety yellow powder coated (other colours on request) |
| Height: | 900 to 1050mm above ground. 150 to 200mm below ground. |
| Weight: | Post 4.5 to 21kgs. |
| Locking: | Sleeve cap locks to post with padlock. Padlock sold separately |
| Installation: | In-ground sleeves are available in either core drilled or new concrete models. (please specify) |

Sorry, we currently don't have any Case Studies related to this product.

We are currently compiling a list of additional services that might apply to this product.