Secure Your Trailer Boat with an Anti-theft Device to Reduce the Risk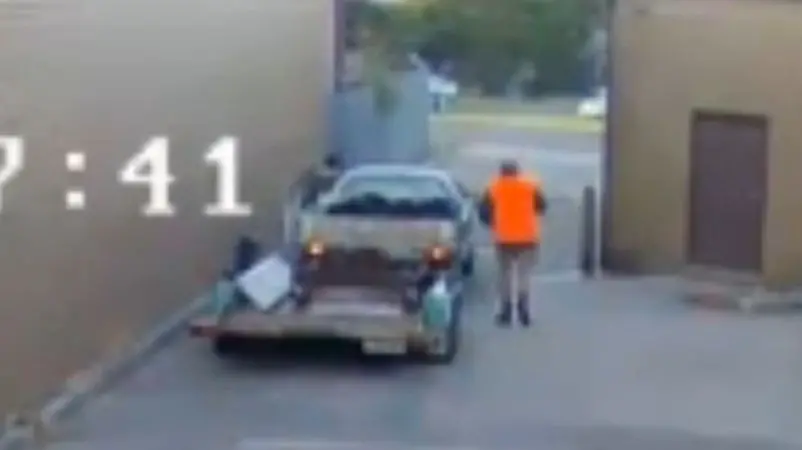 It has come to our attention here at Barrier Group, that there have been recent boat and trailer thefts in our area. These crimes have always existed, but an increasing number of trailer boats have been reported stolen over the last few months.
The most recent trailer theft was reported in the Herald Sun about an incident that occurred in Melbourne's east: Tradie run over by his own trailer after chasing thieves.
In just one week Colac reported two incidents where trailer boats were stolen from private and industrial properties: Boat stolen in Colac and Another boat stolen.
But boat theft is not only confined to Geelong and surrounding districts, it is happening all over Australia.
If you're a boat owner, we suspect that there is no worse way to start your day than finding your driveway, backyard or work site void of your hard earned and prized possession.
Any unsecured trailer boat parked on private property or near building sites are vulnerable to thieves

Consider where and how you store the rig when it is not in use. Boats have been stolen from suburban streets directly in front of the home, or even closer, from the driveway or carport. Backyards and security garages at inner-city high rise apartments are also defenseless against preconceived thefts.
We know the cost of the boat and trailer, including the accessories and electronics, can be quite high when all the expenses add up. It is also common knowledge that tradesmen spend a hefty amount on custom trailer designs, machinery and tools.
Alongside your family home and cars, boats and trailers are one of your biggest investments. Hard work and accumulated sacrifices have gone into paying for one of your most prized and expensive assets, so investing a little more in an anti-theft device is recommended to ensure you will not be the next victim to report a stolen trailer boat.
Trailer boats are easy crime targets for calculated or opportunistic thieves

It seems that in Australia right now, your own secure, private or commercial, property is no longer safe from thieves breaking in to steal your boat or trailer.
As a boat owner you'd likely use it for summer family holidays on the river, water skiing or wake-boarding with friends or fishing trips with mates throughout the year. As a business owner, you use your trailer everyday for work to transport your machinery and tools.
However you use your boat or trailer, when it is stolen, the theft still leaves you feeling the same frustration, resentment and anger at the thief who has chosen to take that from you without the care for what that means to you and your family.
For instances where trailer boats have been stolen from personal properties, there have been cases where the children have been affected by the brazen actions of these thieves and subsequently have been frightened that the same could happen to them.
Which is why we understand that finding a strong and reliable anti-theft device to deter "would-be thieves" from stealing your rig is of high importance.
How can you protect yourself from becoming another victim of boat theft?

Don't let a "would-be thief" simply hook up their vehicle and drive away with your trailer boat, by fitting an anti-theft device to your rig.
Investing in anti-theft devices for boat trailers secures your rig when not in use to ensure that the mentality of 'It will never happen to me' rings true.
Security devices come in all shapes and sizes with varying prices depending on the brand and style you choose. As it is in most cases, by choosing a cheaper alternative you are risking the reliability of the product being able to sustain any attempts at vandalism.
Some insurance companies require owners of trailerable boats to confirm the use of anti-theft devices as part of their terms and conditions. Otherwise failure to do this increases the risk of not being insured if the rig is stolen.
The Scorpion Wheel Clamp is a unique, heavy duty anti-theft device capable of fitting a wide range of trailer boat wheels
The Scorpion Wheel Clamp is fitted from the outside (only) with steel jaws that clamp around the wheel using a high tensile steel chain and unique tensioning system. The clamp is quick to fit and easy on your back. It weighs 12.5kgs and is designed with a built-in handle to make it is easy to carry. All parts pack neatly inside the wheel clamp which is great for storing on your boat or in your trailer when not in use.
Although the Scorpion is exceedingly reliable, like most anti-theft devices in the market, it is not entirely tamper-resistant against extremely determined vandals. But for unauthorised individuals, like trailer boat thieves, the design makes it a difficult and timely task to remove the clamp from the wheel. Because of the complexity of the task, it exposes them to the likely risk of being caught in the act, lessening the chance of a successful theft transpiring.
In most cases, the presence of a wheel clamp will automatically deter "would-be thieves", causing them to move on and focus their attention on an easier target.
The Sheriff's office and law enforcement authorities across Australia prefer to use Scorpion Wheel Clamps, for its unique and dependable design that allows them to successfully immobilise the vehicles of dangerous drivers or fine evaders.
Apart from investing in anti-theft devices like a wheel clamp, other security options you need to consider are
Trailer registry and insurance
Unique markings or engravings in a hidden location
Copies of all documentation
Photographs and videos
Alarm systems
Trailer boat thefts are common to unattended streets, car parks and boating ramps - in fact, anywhere that allows the thief to drive their vehicle up and hook onto the trailer poses a risk.
Never leave your rig unattended without properly securing it with a Scorpion Wheel Clamp first!
Read more product information and watch the installation video on Scorpion Wheel Clamps, or phone our customer service team on 1300 55 33 20 for any enquiries.
Related Posts