8 Remarkable Reasons Speed Humps Impact POSITIVELY on our Lives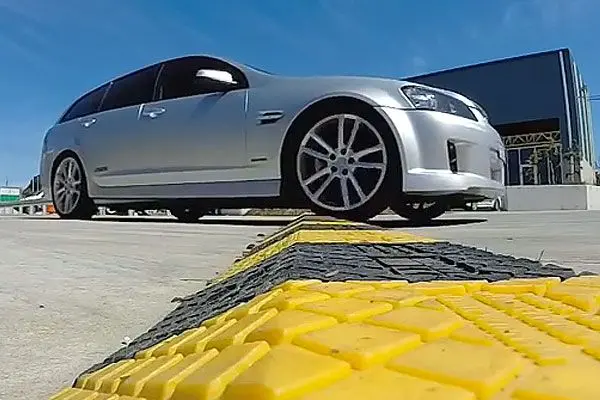 Speed humps, also known as speed bumps, are a widely criticised and highly debated traffic calming device.
Most of the arguments highlight how they negatively affect and directly impact drivers and their vehicles rather than acknowledging the advantages of using speed humps.
Some common speed hump arguments are that they:
Damage vehicles, even at low speeds, and cause costly repairs.

Slow the response times of emergency vehicles which puts lives in danger.

Increase noise levels where they are implemented.

Cause discomfort and back injury to drivers and passengers.
Barrier Group develops and manufactures Type 2 Speed Humps that you will most likely encounter in your local shopping centres, distribution and transport depots, car parks, airports, campuses and in front of schools where traffic speed and pedestrian safety has been a concern in the past.
Read on for 8 reasons speed humps impact POSITIVELY on our lives.
8 Positive Speed Hump Benefits for Controlling Traffic in our Facilities
Based on Barrier Group's type 2 speed humps made from steel, polyethylene and rubber.
Close proximity spaces where blind spots occur, like car parks and tight driveways, can benefit from speed humps by controlling the speed of oncoming traffic and ensuring surrounding pedestrians, vehicles and assets are safe from possible collisions.

Lower speeds decrease the noise of traffic and cause fewer collisions which improves traffic and pedestrian safety.

Speed humps are temporary and can be removed or relocated should traffic conditions change.

When manufactured and installed correctly, speed humps maintain a consistent quality and will not rattle or shift position over time.

By approaching humps at the correct speed limit, which is generally 10km, not only do you ensure pedestrian and traffic safety but you avoid damaging the cars suspension and injuring the occupants in the car.

Speed humps height, cross section, ramp angle and markings comply with the Australian Standards for Type 2 Speed Humps* which regulates the design and use of speed humps.

Slows vehicle speeds in areas that are prone to dangerous slippery surfaces in the wet conditions more effectively than speed limit signs or line marking alone can control.

Speed humps have the advantage of being largely self-enforcing and creating a visual impression that the area is not intended for speeding.
Don't you agree now, that the advantages of speed humps greatly outweighs all the grievances that you had read about or experienced yourselves in the past?
We believe so.
BONUS reason:
Speed humps keep you as a driver safe and ensure the safety of people around you while you are behind the wheel, and while others are also driving around you.
Related Posts